NEWS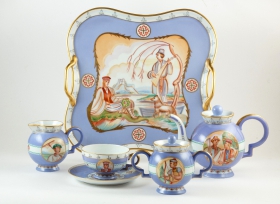 The exhibition in Riga Porcelain Museum has been created in co-operation with Peter Avens' charity foundation "Generation".
Peter Avens' collection "Rīga Porcelain Artwork (1925-1940)" currently is one of the biggest and most significant ones in Latvia. The collection features different and unique objects which have been created in the porcelain painting workshops "Baltars" (1925-1928), "Burtnieks" (1929-1939), "Ripors" (1933-1934) as well as in the joint-stock company "M. S. Kuznecovs" and J. K. Jesen's Factory (1934-1940). The works represent the trends and creative searches of 1920s and 30s. The collection "Rīga Porcelain Artwork" (1925-1940)" features six china sets or their parts created in "Baltars" workshop which will be exhibited in Riga Porcelain Museum and have been manufactured by the joint-stock company "M. S. Kuznecovs". Each of these sets and each item of the sets represent the excellent qualities of Latvian porcelain artwork. The curator of the collection is art historian Ludmila Neimiseva.
The objects from the china set "Work and rest". The painting by Romans Suta design. Joint-stock company M. S. Kuzņecovs Porcelain, Faience and Clay Objects Factory. 1938.